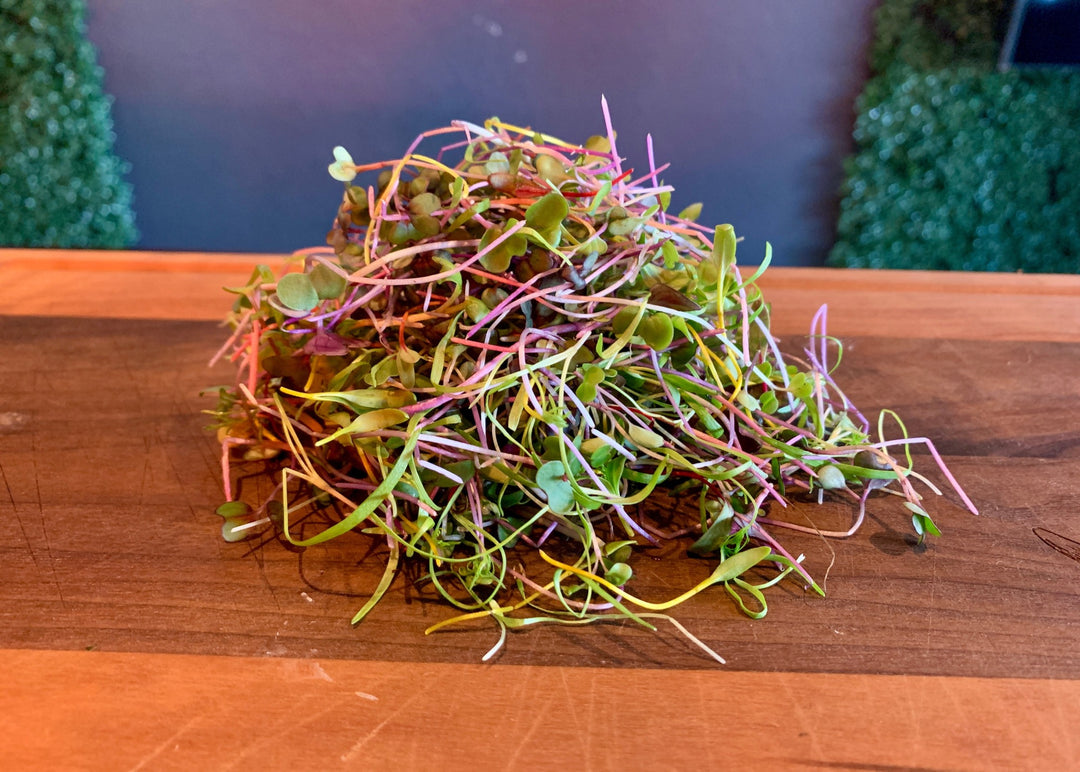 Rainbow Mix
---
Low stock - 3 items left

Inventory on the way
"Rainbow Mix" microgreens is a delightful and colorful addition to any dish! 
Flavor Profile
Beets: Young beet microgreens bring a slightly sweet and earthy flavor. They are tender with a delicate texture, adding a subtle, earthy undertone to the blend.
Kohlrabi: These microgreens have a mild, slightly peppery taste, similar to cabbage or kale. They add a crisp texture.
Cabbage: Cabbage microgreens offer a fresh, slightly peppery flavor that's reminiscent of mature cabbage but milder and more tender.
Radish: Radish microgreens are known for their spicy kick, similar to mature radishes, but less intense. They add a zesty note to the blend.
Kale: Kale microgreens offer a mild, cabbage-like flavor. They're tender yet robust and contribute to the overall complexity of the blend.
Food Combinations
Salads: Create vibrant salads without the need for lettuce. Toss the Rainbow Blend with some avocado, nuts, and a light vinaigrette for a nutritious, flavorful meal.
Smoothies: Blend these microgreens into fruit or vegetable smoothies for an added nutritional boost without overpowering the primary flavors of your smoothie.
Sandwiches and Wraps: Use them as a fresh, nutritious layer in sandwiches and wraps, pairing well with both meat and vegetarian fillings.
Garnishes: Sprinkle atop soups, pizzas, or pasta dishes for a burst of color, texture, and nutrition.
Snacking and Appetizers: Incorporate into spring rolls, or simply enjoy them as a healthy snack with a light dip.
Nutrient Content and Health Benefits
Beets: Rich in vitamins C and B6, folate, manganese, and potassium. They support heart health and may improve blood pressure.
Kohlrabi: A good source of vitamin C and potassium, aiding in immune support and digestion.
Cabbage: High in vitamin K and C, providing antioxidants and aiding in bone health.
Radish: Offers vitamins E, A, and C, potassium, and antioxidants. They can support healthy digestion and blood sugar control.
Kale: High in vitamins A, K, C, and B6, calcium, potassium, and magnesium. It supports eye health, bone health, and has anti-inflammatory properties.
Incorporating the Rainbow Mix into your diet can provide a wide spectrum of nutrients, contributing to overall health and well-being. Each microgreen in the blend brings its unique set of vitamins and minerals, making it not just a visually appealing mix, but also a powerhouse of nutrition. Remember, a colorful plate often translates to a nutrient-rich meal, and your Rainbow Mix is a perfect example of this!