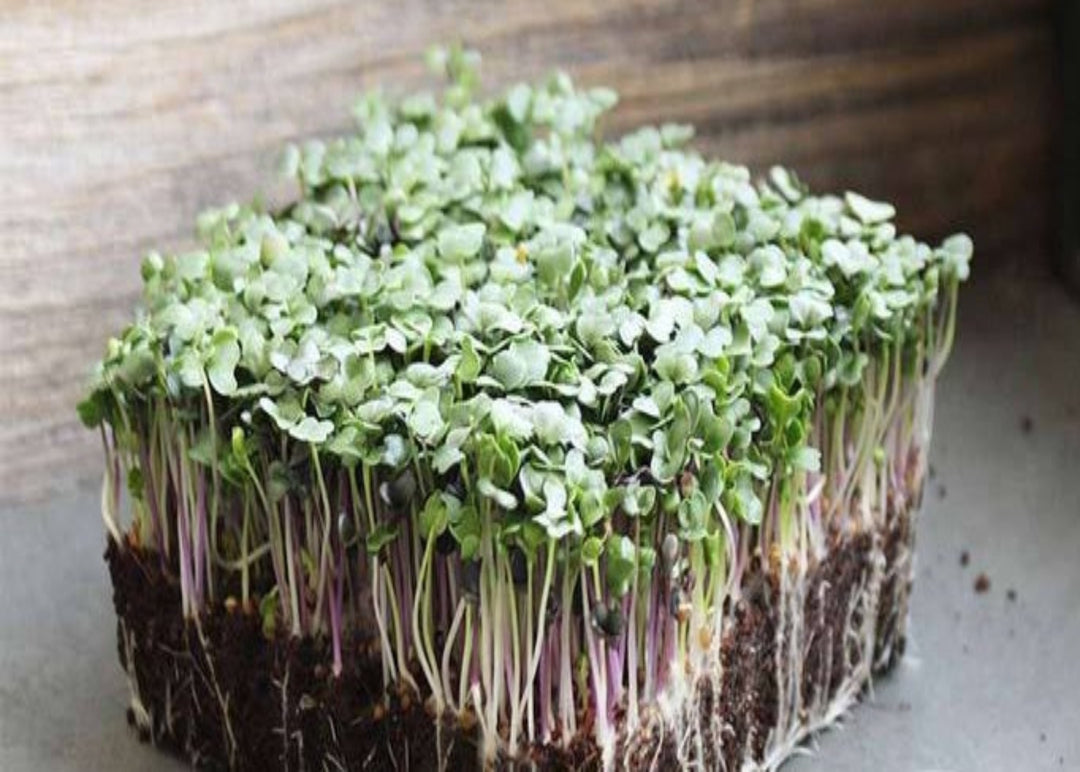 Spicy Salad Mix
---
Low stock - 6 items left

Inventory on the way
This microgreens mix of kale, broccoli, arugula, kohlrabi, brown mustard, and cabbage has a complex flavor profile that includes a mildly spicy, bitter, and slightly sweet taste with a refreshing, crisp texture. The mix is characterized by a sharp, peppery flavor with a slight nutty taste.
This mix of microgreens can be used in various food combinations such as salads, sandwiches, wraps, smoothies, and soups. They can also be used as a garnish on top of other dishes to add a pop of flavor and nutrition.
In terms of nutrition, this mix of microgreens is packed with essential vitamins and minerals, antioxidants and other phytonutrients. 
Kale: Rich in vitamin K, this green leafy veggie is known to regulate inflammation markers in the body. Plus, it's chock-full of antioxidants.

Broccoli: Ah, the superstar of microgreens! Packed with sulforaphane, it helps to reduce oxidative stress and inflammation.

Arugula: Contains a high level of nitrates, which can lower blood pressure and, as a bonus, reduce inflammation.

Kohlrabi: A cruciferous veggie, like its cousins broccoli and kale, that contains glucosinolates. These compounds are known for their anti-inflammatory properties.

Brown Mustard: Spicy but nice-y! The allyl isothiocyanate in it has anti-inflammatory and even anti-cancer benefits.

Cabbage: Loaded with phytonutrients and antioxidants like anthocyanins, which not only give it color but also help in reducing inflammation.
Incorporating this mix of microgreens into your diet can help boost your immune system, improve digestion, and lower inflammation.